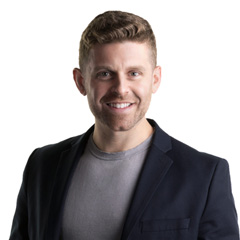 Realtor Associate
Mobile: 732-597-4312
Office: 732-860-KEYS
Email: EffyRealEstate@gmail.com
You have a lot of agents to choose from when buying or selling a home. So why choose me?

Here are some things that set me apart:

Passion: I have a very sincere and strong passion for people. I graduated from East Stroudsburg University with a degree in Psychology in an effort to follow this passion. After college, while playing in the Asbury Park-based band "The Amboys", I founded the nonprofit organization "Music Is The Medicine" which raised over $50,000 for various local and national causes. Even today, I volunteer for a local group called "Lead U", where I travel to schools instilling the importance of self-leadership to our youth. In my personal life I have always taken a "people first" approach, and in my professional life, I'm continuing this mission through helping my clients!

Service: I have worn many professional hats. My latest was managing a photo/video production team for the largest dance competition in the United States. My responsibilities required me to deal with clients from more than 80 cities throughout the country. This instilled a remarkable appreciation for customer service and patience when handling demanding challenges.

Communication: Success in real estate starts with effective communication. Maybe it's the meticulous musician in me, but in our tech-driven society being full of so many easy distractions, I often find that simply listening to your clients is quickly and sadly becoming a lost art form. For nearly 4 years, I pursued a career that focused on tackling these communication barriers between at-risk youth and their families. Simply put: if you work with me, I'll make sure you are well informed at every step of the process, so you can make smart decisions.

Research: Growing up in a family of Realtors, I was always made aware of the importance of due diligence in this industry. I can say with confidence that I fully understand the nuances of the local market, the dynamics of supply and demand, and how these things affect you as a buyer or seller. I pride myself on being a diligent researcher who will identify your specific home buying or selling needs.

Contact: You'll have a lot of questions during your real estate transaction. Everyone does. And you deserve to know what is happening at all times, and what needs to happen in order to reach the finish line. I look forward to working with you!
FAVORITE THINGS
My favorite things include the outdoors, music, dogs, croissants & traveling!
DESIGNATIONS
• Young Professionals Network (YPN) 2017-2019
• Monmouth Ocean Regional Realtors New Agent Spokesperson
• Commercial Industrial Investment Council (CII) Board Member 2019-
• Residential Real Estate Council (RRC)